A strange incident recently occurred on a subway train in New York where a group of women attacked two women. The clip went viral after it was posted on Reddit and later spread across all social media platforms.
COMMERCIAL
Article continues below this ad
The video showed about six women dressed in neon green jumpsuits assaulting a passenger and repeatedly punching another in the face. Also, YouTuber-turned-boxer, Sulieman Albaher, known as Slim Albaher, was stunned after seeing the viral clip.
COMMERCIAL
Article continues below this ad
He reacted to the video by stating that New York City needed 'Batman' to stop 'supervillains'. "New York has Super Villains now. Batman where are you! We need you," wrote in a tweet.
According to the New York Post, the group of women attacked two 19-year-old girls. Cell phones, credit cards, wallets and other items were also stolen from the victims. The mother of one of the victims spoke to the media and stated that her daughter thought that "aliens" had stolen her.
"She said she was attacked by aliens, and I didn't know what she was talking about. Yesterday was her birthday, so she spent her 19th birthday. I hope they get what they deserve and then some because it's disgusting,the mother said.
DIVE DEEPER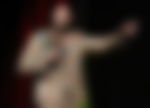 The attackers are part of a group called the Green Goblin Gang and police have said they have launched a search to find the perpetrators. In addition, it was also reported that the victims were physically unharmed. This incident was certainly a rare and unusual occurrence, which could be why the video went viral.
A look at Slim Albaher's boxing career
Albaher has been gaining popularity in the boxing world of influencers in recent months. The 27-year-old Yemeni boxer has competed in four bouts and has an undefeated record. He made his debut in 2019, securing a TKO victory over fellow YouTuber Fousey.
COMMERCIAL
Article continues below this ad
He recently made headlines for his performance on the KSI vs. Pineda undercard. Albaher lived up to his nickname, 'The Hitman' after beating FaZe Temperrr in the main event.
He went on to put on a clinical performance, knocking out Temperrr in the second round with a right hook and winning the ICB world light heavyweight championship, an influential boxing title.
COMMERCIAL
Article continues below this ad
What do you think about the video? Let us know in the comments below.
WATCH THIS STORY – These 5 boxers lost more than 4 million in fines