"We didn't talk to Fabio after the race, because he was probably very disappointed and frustrated, and he went straight to his office to freshen up.
"It is also up to us to judge until we talk to him; we have to actually talk to him, check the facts and see what happened. It's very difficult to understand. We need time to understand, but first of all, we need time to talk to him."
Those were the words spoken by Yamaha team boss Maio Meregalli on Sunday night after the Thai Grand Prix, as the former rider was put in front of MotoGP television cameras not only to explain what had gone so wrong. in the career of reigning world champion Fabio Quartararo, but also to explain the championship leader's absence after he failed to show up for any media engagements.
Not only did he not appear in front of the TV cameras or print media who, having traveled all the way to Thailand, had hoped to hear from him after a 17th-place finish that he knows could have done irreparable damage to his championship bid, but It turns out that Quartararo completely avoided his own team afterwards as well.
Instead, he apparently headed straight to the airport, catching a flight from the rural town of Buriram that hosts the race.
The only post-race comment Quartararo made came the following day on his Instagram page (oddly, now without a profile picture and without much activity, something really unusual for the normally social media-savvy 23-year-old), where He posted a photo of himself with a short caption apologizing for a disappointing race.
"What a nightmare…" he wrote. "Unfortunately we had a terrible race and we couldn't get a point. After a very good weekend in dry conditions, it rains just before our race.
"We used to be fast this year, but somehow we had difficulties, problems and terrible feelings. I want to thank the Thai fans and see you next year. It's time to reset, train and prepare for Phillip Island."
Heading into the final three rounds of the season, which will start again next weekend in Australia after a few short days of respite, his result in Thailand combined with Francesco Bagnaia's podium finish on Sunday means the battle for the championship essentially restarts between the pair, with the narrow margin of only two points between them.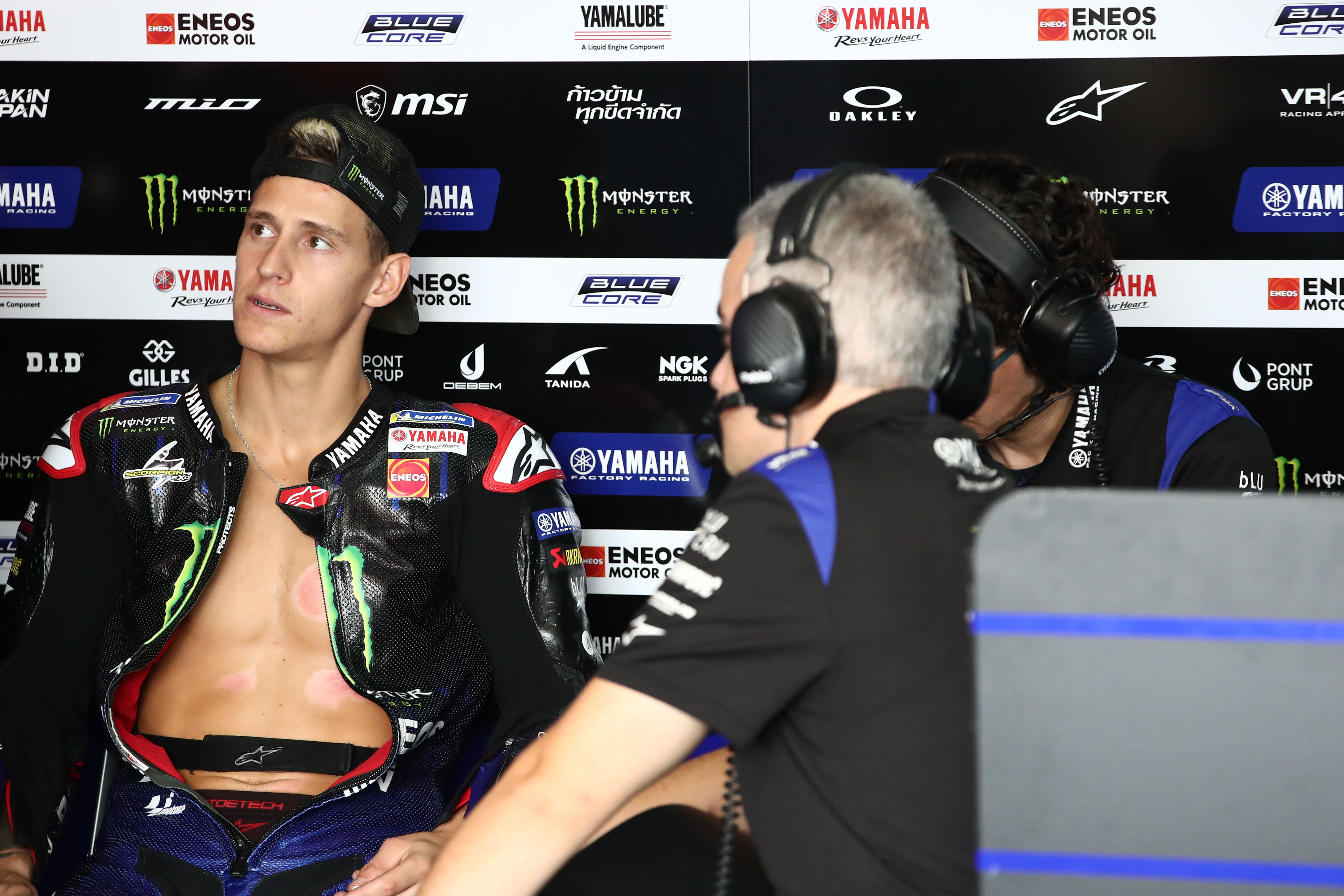 And given the spectacular way in which Quartararo's 2020 title campaign against Joan Mir completely collapsed in the final races of the season, that means the Ducati have a clear advantage unless Quartararo can address the issues he has faced. lately in time to load. back.
In 2020, he opened that season with a double victory in consecutive races at Jerez and, after leading the championship through the first nine rounds of the shortened and reshuffled 14-race calendar, looked absolutely on course to become the first satellite driver to win a title. since Valentino Rossi did the same in his second season in 2001.
However, struggling immensely at Aragon (ironically, a track that may also have ushered in another tough time in 2022), he didn't just concede top spot – he slumped, eventually finishing the season a very distant eighth overall.
To his credit, since then both he and his team have not been shy about talking about what went so wrong as the pressure mounted and the then-21-year-old found himself struggling to handle it. Much better than him, it was an unfortunate ending, but one that he absolutely seemed to have put behind him with a penchant for the character-building title in 2021 that showed none of his previous weaknesses.
And, with the 2022 championship still on the table for him, aided in no small part by the return of Yamaha's happy hunting ground, Phillip Island, for the first time in three years, it looks like he's standing at a crossroads right now where every one of the two paths lead to a repeat of the previous two seasons.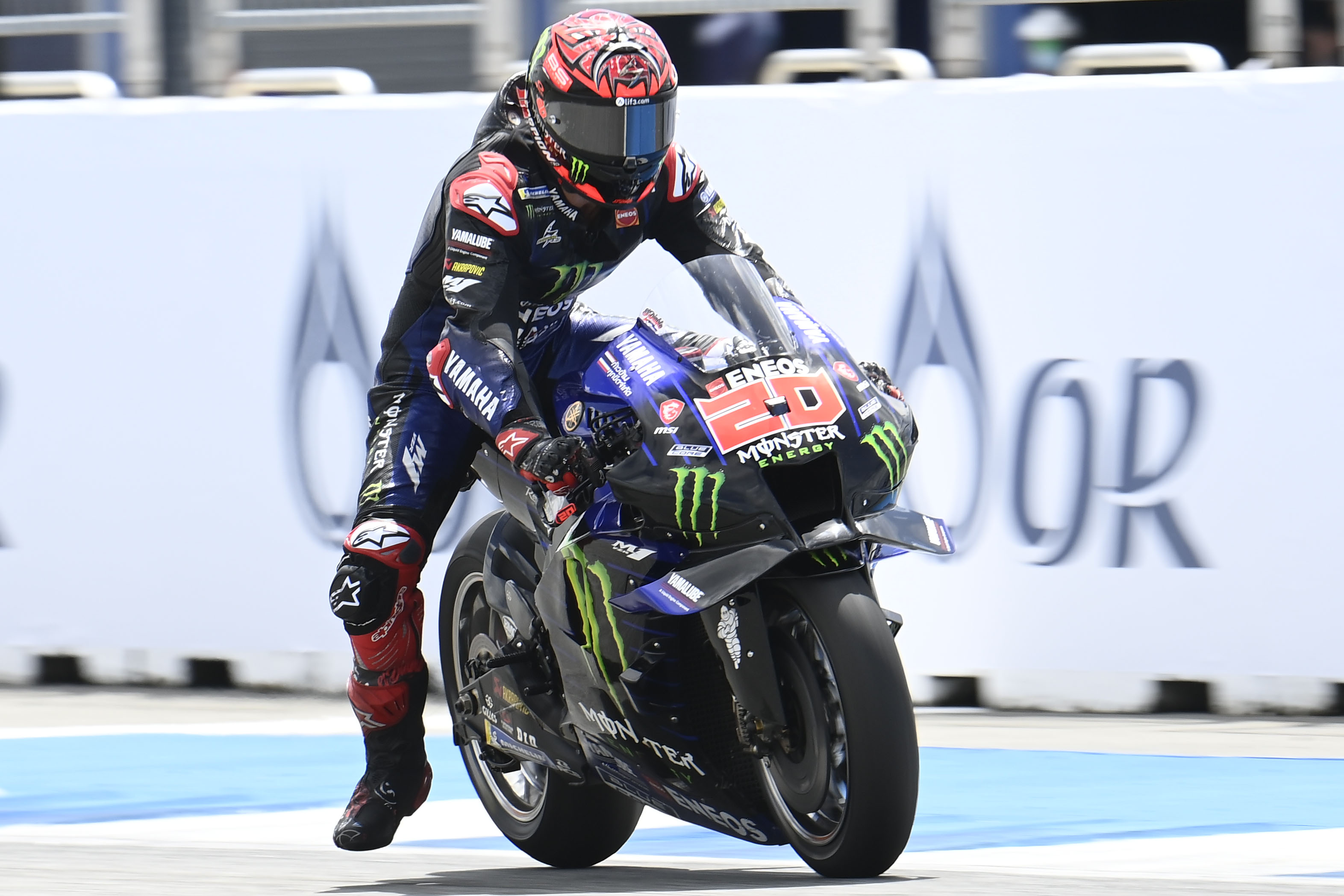 If he gets bogged down again in the pressures of fighting a buoyant Bagnaia on an absolutely dominant Ducati, trying to keep him at bay on a Yamaha M1 that everyone and his dog know isn't good enough, then Quartararo's chances of retaining his title are very thin indeed.
However, if he finds that the strength he showed in 2021 is absolutely there (hopefully aided by a week of R&R on a Thai beach), then we're in for a spectacular final three rounds of the championship, and it's very tough. Don't bet against him.