Francesca Shillock

ITV's This Morning faced a major interruption during Friday's show when Alison Hammond and Dermot O'Leary's conversation with Mel B was interrupted.

Alison Hammond Y Dermot O'Leary faced a moment of chaos during Friday's episode of This morning During an interview with Spice Girls singer Mel B.
MORE: Alison Hammond looks sensational in a sparkly ball gown, and wow
The presenters were chatting with the singer about her brand new BBC show with Ruby Wax and Emily Attack, entitled Trailblazers: A Road Trip to the Rocky Mountainswhen a fire alarm began to go off, interrupting the entire interview in the process.
Mel B was apparently shocked by the live TV moment, when she asked, "Is that real?" which prompted Alison to say, "It's just an alarm, this is live TV!"
Mel then hilariously began reading the autocue, informing viewers of what was going on, before the show almost immediately afterward went into an ad break with Mel walking off set while yelling, "Bye!"
MORE: This morning star, Alison Hammond, left vulnerable after 'scary' surgery
MORE: This Morning viewers air allegation after major ITV shakeup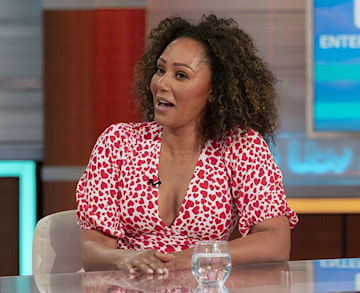 Mel B appeared on the Friday show for an interview.
After getting back on the air, the hosts and Mel were still laughing about the incident, but Mel added, "Imagine if there was a fire, we didn't even move!"
But the show faced more chaos later in the show during the fashion segment, when the fire alarm went off a second time. However, the ITV show continued as normal, assuring viewers that it was just a test.
Fans took to social media to react to the hilarious moment. One person captured Alison's iconic laugh and wrote: "Alison behave yourself!" A second added: "You can't beat Live TV! #THISMORNING."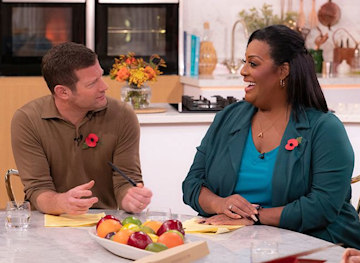 Fans love to see Alison and Dermot
A third joked, "Someone burned the toast," while a fourth commented, "Lmao the fire alarm and everyone ignored it #this morning."
Mel B was on the show talking about her new travel show which will start on Monday 28th November at 9pm on BBC Two.
The synopsis reads: "In this fun, entertaining and sometimes heartwarming adventure series, Ruby, Mel and Emily pay homage to a forgotten pioneer while exploring the people, places and customs of an ever-changing America.
Like this story? Sign up for our What to Watch newsletter and find out about the shows and movies everyone is talking about.