The lack of use of the bike lane is criticized, forgetting that a bike lane has much more capacity for the passage of people than a road with cars, so it rarely seems crowded. Inconvenience to deliveries is cited as a hurdle, but it's less a matter of bike lanes per se and more of street design. There is a latent suspicion that cyclists spend less money than car users.
However, in the US city of Portland, a study showed that cyclists and pedestrians may end up spending more per month than car drivers. A combination of anecdotes and suspicions entrench the dominance of the car space, rather than movement, in the CBD.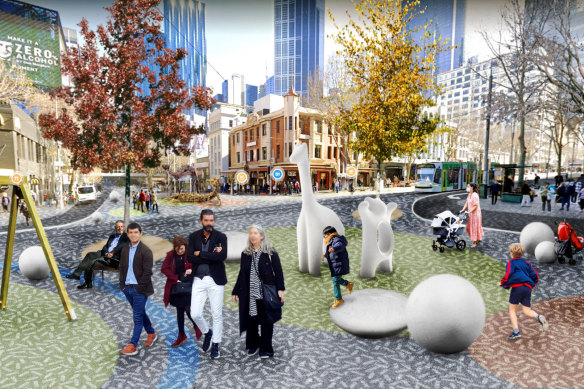 How to break this impasse?
A superblock plan is not fundamentally pro-bike or pro-pedestrian, but simply "pro-testing." But bringing corporate lobbying on board is essential for success. The key is to realize that a plan that focuses solely on movement is unlikely to generate as many economic benefits as a plan that includes a combination of movement and stay.
The recognition of the distinction between movement and place is already part of the policy of the state government. More places for citizens to linger will give way to longer stays and more unplanned purchases.
Charging
Unexpectedly, there are lessons to be learned from the suburban relic of late 20th century mall design. The dean of these was Victor Gruen, who imagined that his buyers would linger and stop, reviving, in his opinion, the essence of civility.
While the design of shopping malls has gone to the extreme of dazzling consumers into buying, the so-called "Gruen transfer" lingering and pausing creates more opportunities for all different types of human activity, including consumption.
By contrast, when you move, your options for doing different things are virtually reduced to a single activity. This is not a radical suggestion: CBD revitalization advocates and investors tend to view CBD as some kind of shopping mall.
A superblock plan could support this. While roads and public transport are important for employment, the health and well-being of Melbourne's people will not be drastically changed by these expenditures.
After two years of adjusting to living and working from home, a superblock model to revive downtown Melbourne represents a low-cost, easy-to-implement solution that can act as a model for the metropolis and other Australian cities.
Marco Amati is Professor of International Urban Planning at RMIT University. Alexia Yacoubian is an urban planner who works for Ethos Urban