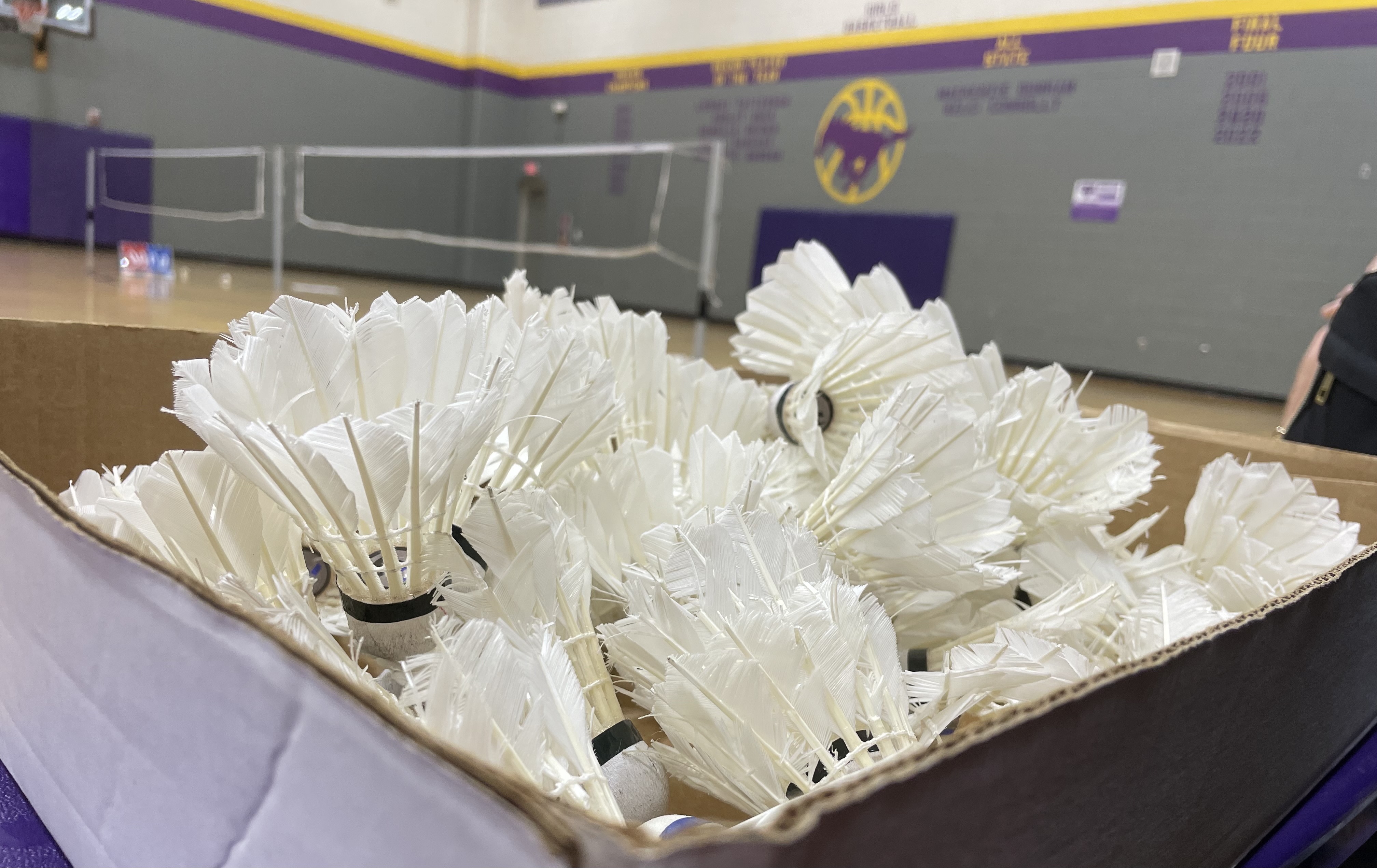 The costs of running a badminton team can be much more than people expect. A tube of a dozen high-quality badminton birdies can cost as much as $45 (Brenden Paul/AZPreps365).
Brenden Paul is an ASU Cronkite School of Journalism student assigned to cover Sunrise Mountain High School for AZPreps365.com.
The Sunrise Mountain High School badminton team began their season by selling cookie dough in order to raise money for team equipment and travel expenses.
They were overwhelmingly successful, raising over $4,000 for the team this season.
Head coach Missy Carter helped organize the online fundraiser for her team, which was completed by contacting friends and family via text and email.
"People could click on the link that was sent to them and buy cookie dough and pay online," Carter said. "Or, if they have out-of-state contacts or family, they can donate without receiving cookie dough, because it's delivered in person."
According to Carter, the order period was open for nine days and after all orders were completed and paid for, the cookie dough was delivered to Sunrise Mountain approximately two weeks later.
Victory Fundraising, an Arizona-based company that specializes in high school fundraising sporting events, assisted in the fundraising through an app called Money Dolly, which organizes orders and payments.
Victory Fundraising representative Jacob Fossen worked with the team to organize the fundraiser and taught the girls lessons on entrepreneurship, work ethic and good attitude.
"We put the girls on teams and we had team captains, and we let them select their own teams," Fossen said. "We really set the stage for the year by teaching them things like leadership, teamwork, competitiveness and responsibility. These are many of the things that the coach teaches them on the field, and we also use them with fundraising. In total, they raised about $200 per athlete, which added up to more than $4,000."
Fossen and her team were able to create a fundraising plan that had the team look at cookie dough sales from the big picture.
"The things that make you good at your sport are also the things that make you good at fundraising," Fossen said. "It's about having a goal and a plan. It doesn't matter if they're on the badminton court, in the classroom, or fundraising, if they have a goal and they go after it with energy and enthusiasm, they'll be good at whatever they do."
Carter says that fundraising not only pays for new teams, but also creates success for players and future teams to come.
"It is very crucial. All the shirts you see, the girls get two shirts every year," Carter said. "We bought some new rackets and some extra birdies so we could practice with good birdies instead of erratic ones. I think it's very important. We're trying to build our program and get stronger and it takes a good team to do that."
The impact is not only perceptible for the coaches, but also for the players.
"I've been here for years with and without fundraising, and doing so has done us a lot of good," said senior Mabel Dinnell. "Just one year of fundraising bought team sleeves for our new net poles, team jerseys and uniforms. The impact is lasting."
The team not only raised enough funds for equipment and uniforms, but also raised extra money for an end-of-year celebration at TopGolf for all 23 junior college and university players and coaches.
Fossen and the team were pleased with the outcome of the fundraiser, as Sunrise was able to reach record numbers.
"The girls were great, they really competed and had fun," Fossen said. "They did a good job and they were able to do better than ever."