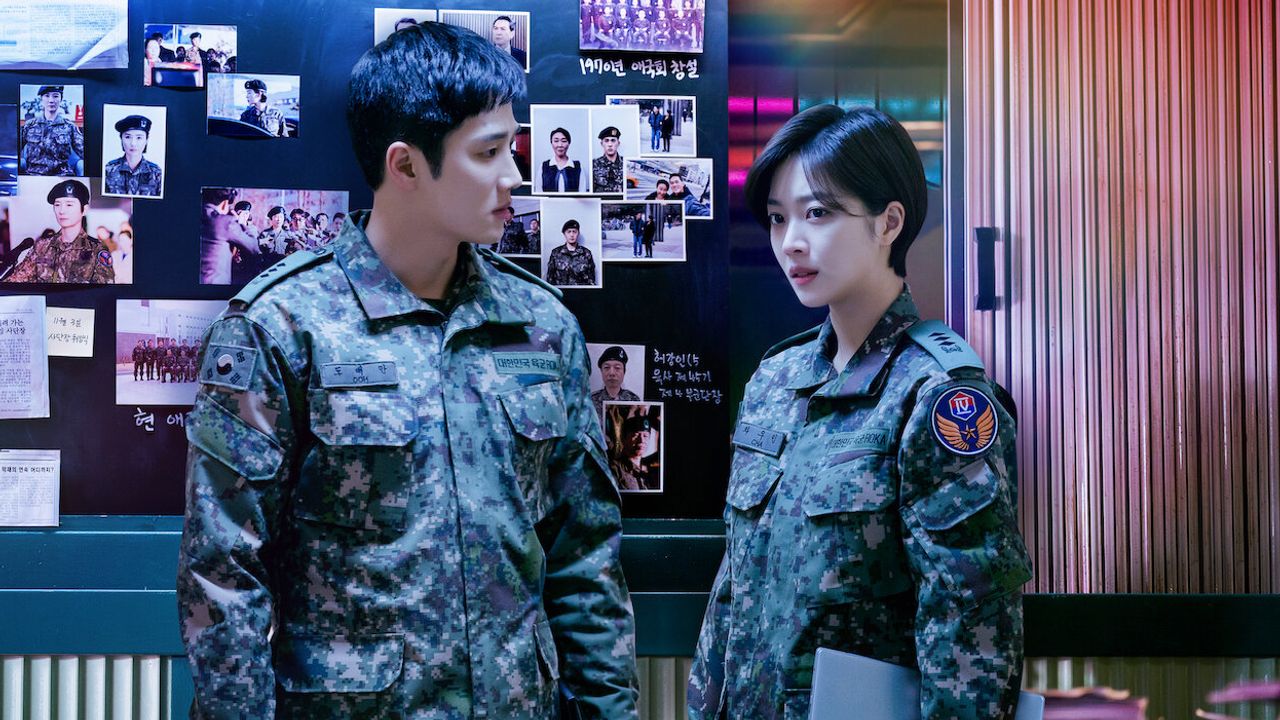 Do Bae-man joins as a military prosecutor after he was bribed with a large amount of money. He indirectly worked for the IM company and eliminated his enemies from society. Soon, a new prosecutor joins Cha Woo-in, he joins the army, and the plot begins to unfold.
Cha Woo-in is a strong and independent woman who wants to bring justice to her father. Her dedication to her goal and her serious expressions are worth seeing. Do Bae-man is initially greedy, and as soon as he realizes the truth about the scam, he joins this girl. With her short hair and big expressions on her face, Cha Woo-in looks so cute that it would not have been difficult for Do Bae-man to fall in love with her. They both support each other unconditionally and made a great contribution to the South Korean military.
There are a total of sixteen episodes lasting over an hour each. In the first episode itself, the plot of the series is revealed. What remains to be discovered throughout the next fifteen episodes is the path that Chief Military Prosecutor Do Bae-man will choose. As his name sounds familiar to the Doberman breed of dog, the title has been kept accordingly. In Do Bae-man's transition and how he went from being a man with no career options to uncovering a huge fraud in the military, actor Ahn Bo-Hyun played this role perfectly.
The most sympathetic character in the series is Jo Bo-ah. She played the decisive role of another military prosecutor, Cha Woo-in. Her action scenes and her emotional past were what formed the backbone of the character. Noh Tae-nam's psychotic character was also difficult and Kim Woo-suk managed to pull it off. There was a certain kind of madness and anger in Noh Tae-nam that not everyone can show on screen. All the characters have been well researched and have their own importance.
Despite having a serious theme, the series had humor. For those of you who like courtroom and military dramas, this one is for you. The cast, even those who play minor roles, have given their best. Even with such a predictable plot, the series will be able to grab the audience's attention and get its message across well. There are only a few romantic scenes between Do Bae-man and Cha Woo-in, and their chemistry is extraordinary in them. Their togetherness and understanding can be seen in the courtroom scenes.
This legal drama has done everything right except its ability to maintain mystery. The ending was quite powerful and reflects how corruption can be so entrenched in institutions like the military. At sixteen episodes, the series initially seemed a bit long since the Military Prosecutor's future had been revealed early on.
Final score – [7/10]
Reviewed By – Riya Singh
To follow @_riyasinghhh_ On twitter