John Klages recently had his dream come true when he was able to ride in a race car at Grand Bend Speedway.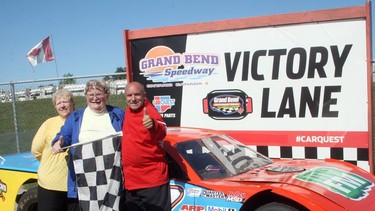 article content
"That was amazing!"
article content
We're sorry, but this video could not be loaded.
Queensway Residents Dream Come True at Grand Bend Speedway
back to video
Those were some of the first words from John Klages after he was able to make a dream come true in the Around the Bend driving experience at Grand Bend Speedway on Wednesday, September 7.
article content
Klages, a lifelong racing lover who was diagnosed with dementia three years ago, became a resident at Hensall's Queensway long-term care and retirement community in March. Through Queensway's Bridge to Dreams program, he was able to experience his dream of riding a race car when circuit co-owner Gord Bennett drove Klages 10 laps around the facility's quarter-mile trioval outside of Grand Bend, where they reached speeds of 90 miles per hour and did some burnouts.
Cheering on Klages were his wife, Janice, from Mitchell, relatives from as far away as Owen Sound, and staff and residents from Queensway. Klages' pastor of First St. John Lutheran Church in Sebringville, the Rev. William Kramer, attended and sang O Canada before the race, while Klages' grandchildren cheered and held up signs with messages of support.
article content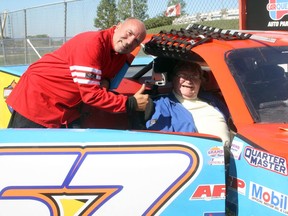 Before his trip, Klages said he was looking forward to experiencing the journey. He said he has been a lifelong racing fan and that he has traveled to see races both locally and in South Carolina and Michigan.
"It's a wish come true," he said, noting that Kyle Larson is his favorite race car driver.
"It's pretty amazing," Klages' wife, Janice, said of the event. "It has always been his dream to go in a race car. It's very exciting."
She said that she and her husband are very grateful for all that Queensway has done for him.
"It's very moving," Janice said.
Publisher Recommended
In motorsports, affordability helps foster diversity

Delaware Speedway Gets a Facelift as Season 70 Comes to Life on Friday
Afterward, she said of her husband's walk down the runway, "It was very emotional," and it was something he had wanted to do for a long time.
article content
"I know he's very excited," he said.
Klages' granddaughter, Erica Pearson, who waved the checkered flag during her grandfather's run around the track, said it was "really cool" to see him experience his dream.
"I was proud of him," she said.
Queensway Program Manager Margaret Sutherland said the Bridge to Dreams program is designed to help residents in long-term care fulfill their lifelong dreams. After Klages moved to Queensway, she was told about the Bridge to Dreams program and "he loved the idea," Sutherland said. She said Queensway staff and residents were excited for him.
Wave Limo and Tours of Exeter provided free transportation for Klages and his family, who later met for lunch at Crabby Joe's.