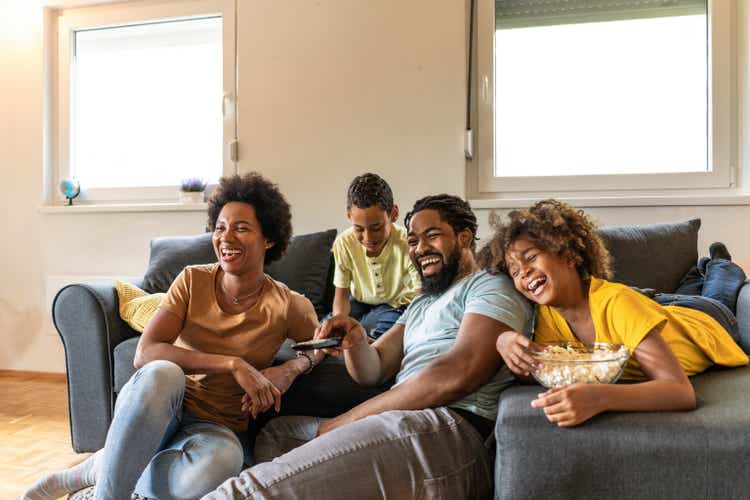 I don't know about you, but when I decided to start a Netflix (NASDAQ:NFLX) subscription, I did it because the content on free TV was intolerable. I mean, gossip shows, talent shows, talk shows, survival shows, cooking shows, these all do I sick I understand that after a tiring day at work, reassuring yourself by looking at some of these options is something many people like to do, but for me it was a nightmare. Not so often, televisions have a good movie or some good national or international series, but the advertising interruptions were so frequent and prolonged that finally watching television was not an option at all.
Although the initial enthusiasm for Netflix content has been tempered somewhat by fluctuations in its quality, I'm not planning on canceling my subscription any time soon. This brings me in total disagreement with 200k people who canceled their Netflix subscription during the first quarter of 2022. Although I must admit that where I live, not all Netflix competitors have a presence, even if they did, I wouldn't move to another. platform. You want to know why?
Because, from a purely behavioral point of view, there is no such thing as diminishing content quality. I think a lot of the hype regarding Netflix content has been created by flagship shows available on other platforms. Similarly, these other platforms will also have second or third rate shows available, and viewers will start to realize that as soon as their favorite shows end. For example, a couple of years ago, there was some buzz associated with the HBO series Chernobyl, which received excellent ratings. Also, Game of Thrones was another flagship show on the platform. But apart from these names, taking a quick look at the HBO content, it seems that there is no other strong name. Note, however, that the series may be good and high-quality, but there is no hype associated with them.
Ads will speed recovery… but they have to be limited
So at some point, Netflix's subscriber churn will stop, but this point will be sooner than many people think. The reason is the experimentally launched new ad subscription plan, which will be cheaper than the existing ones, and is currently working in South America. With this move, the platform intends to compete with its rivals, such as HBO, Disney+ (DIS), Hulu, etc., which already offer ad subscription plans. The cheapest subscription could allow fans of on-demand TV to subscribe to more than one platform at the same time, at the cost of personalized ads of reasonable frequency and duration. We know that the platform is considering commercials from 15 to 30 seconds before the start of the transmission and also during the transmission and that, in any case, the total advertising time will not exceed 4 minutes per hour. It is estimated that once ad-tiered subscription plans become available worldwide, they will contribute more than $2 billion in revenue over the next five years.
Such revenue addition would mean a total revenue increase of almost 20%. At a 16% net income margin, this additional revenue could translate to more than $300 million of additional earnings. The company is now trading at 22 times its future earnings. Such an addition of earnings could reduce this index to 20x.
Therefore, I conclude that Netflix's stock price decline over the last few months is overstated, as it was based solely on the number of subscribers, rather than actual projections of revenue growth. Also, the current stock price indicates that the ad tiered subscription model and its implications are probably not priced in yet.
Instead, the market had assigned a fairly optimistic earnings multiple to the company, based on the absence of competitors. Clearly, this is no longer the case. But still, it's only natural for a new kid on the block to show a rapidly increasing subscriber count, just like Netflix did back in the day. Although this cannot go on forever.
Ad tier plans may be the future
With the global economy slowing down and prices rising, consumers will opt for more cost-effective solutions whenever they can. In this context, cheaper à la carte TV plans may increasingly attract lower-income households.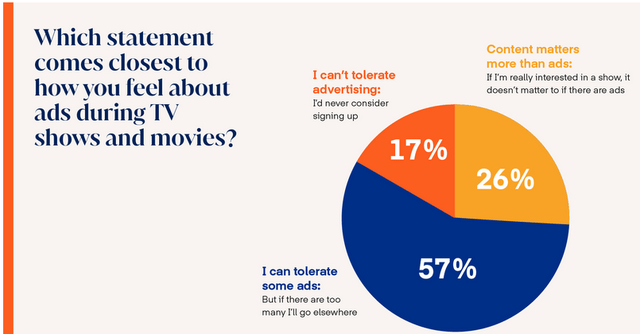 Last year, a Hub Entertainment Research survey showed that more than 8 in 10 respondents could tolerate some ads or didn't care at all. As I wrote earlier, the "some ads" component is crucially important, and I think Netflix knows that.
Also, in another survey, 71% of respondents said they prefer personalized ads over random ones. Netflix has partnered with Microsoft to launch its tiered ads program, so we can expect personalized ads and thus higher user engagement.
Bottom line
Personally, I will continue to pay for my monthly ad-free Netflix subscription and continue to watch Better Call Saul and any other shows that meet my standards, and there are plenty. But I know people more inclined to watch sports, who do have subscriptions to sports on demand channels who would also be interested in some quality series or movies but would not pull the trigger with the current rates. These people are the company's most valuable gain from the advertising tiered plans. Of course, this process works both ways. People could opt for the cheapest plan to use the remaining cash for a subscription to another platform. In any case, the market will get what it wants: increase the number of subscribers. Therefore, I would buy Netflix at this price level.