The Metropolitan Police have hired a specialist officer to focus on hate crime in football, as a direct result of an investigation by Sky Sports News.
In a special documentary that aired just before Christmas, Sky Sports News highlighted the country's first football-specific hate crime police officer, PC Stuart Ward in the West Midlands.
Sky Sports News had exclusive access to PC Ward's work for several months, featuring behind-the-scenes footage from a series of live police investigations and police operations at games within the Premier League and EFL.
Sky Sports News reported the first jail time of a fan found guilty of racially abusing a footballer online.
The Metropolitan Police told Sky Sports News that it was as a result of watching our documentary that the force decided to appoint its own dedicated officer, briefed to focus on discrimination of all kinds within football in London.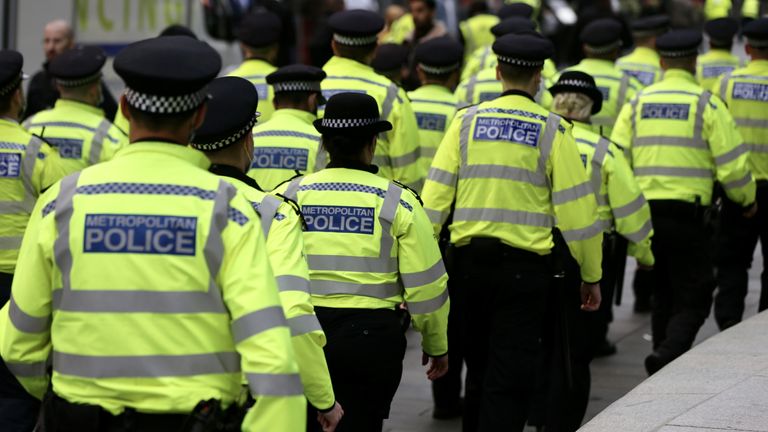 The female PC, whom the Met has chosen not to name, is already in the role and has been working for several months.
The Met told Sky Sports News that no one on the force is available for an interview on the matter as they focus on other "strategic priorities".
Staffordshire Police followed suit, last week appointing a specialist hate crime officer for football.
PC Rich Lymer will work with Stoke City, Port Vale, Burton Albion and others, and seek to prosecute anyone using discriminatory language or behavior within football.
Burnett: Discrimination on the rise, but a positive move
Kick It Out CEO Tony Burnett speaking to Sky Sports News
"It's really positive from our perspective, and we would recommend that more forces do this.
"We can see that it works, both in terms of bringing perpetrators to justice, but also prevention, and that people, knowing that there is a serious deterrent, think twice when they are about to commit a crime of hatred.
"I am really pleased that the Met, preceded by the West Mids and now Staffordshire, have done this, across three major regions. They are steps in the right direction with evidence of success."
"I would certainly like to see other forces, where there is a significant football presence, come on board, but it's not just about punitive measures. One of the things we do is make sure we have a comprehensive provision, because punitive measures are It is not always the best solution, and education is a service we provide.
"Sometimes that's more appropriate, whether it's a young person or the incident hasn't reached the threshold of crime.
"Trend analysis looks like we are seeing a significant increase in incidents of discrimination. In the weekend that just passed, we saw a number of really sad incidents on the pitches, not only in the EFL but also in the National League. .
"This problem is not going to go away, so it is very important that we mobilize now, so that we can address it as quickly as possible."
Hate won't win
sky sports is committed to making skysports.com and our channels on social media platforms a place for comment and discussion free from abuse, hate and profanity.
For more information visit: www.skysports.com/againstonlinehate
If you see an answer to sky sports Posts and/or content with hateful expression based on race, sex, color, gender, nationality, ethnicity, disability, religion, sexuality, age, or class, copy the URL of the hateful post Y take it and send us an email here.
Kick It Out denouncing racism
Online reporting form | kick it
Kick It Out is football's equality and inclusion organisation, working across sectors of football, education and the community to challenge discrimination, encourage inclusive practices and campaign for positive change.