Ryan Blaney and Bubba Wallace are one of the best examples of NASCAR drivers who are really good friends. The two began their racing journeys at a very young age, racing together and climbing the ladder.
And now, they find themselves fighting for a playoff spot in the final race of the regular season.
But before the green flag is waved at Daytona, and even after that, they are good friends.
COMMERCIAL
Article continues below this ad
Perhaps this is what Kevin Hart and Mark Wahlberg thought when they decided to shoot a promo for their new movie, 'Me Time' with Wallace and Blaney.
In an Instagram reel posted by the 23XI Racing driver, Hart introduces the two saying, "NASCAR best friends Bubs and Ryan, what's up with you two?
"Look, we wanted to wish you both good luck on the big race today." he continued. "Your friendship has really reminded us of our new movie, 'Me Time.'"
What follows next is the two NASCAR drivers taking a look at the film and reacting to some of the funny moments in it, leading Blaney to clarify: "Well, we love matching tracksuits and we camp together a lot, but I think we'll stick to our fire suits."
Hearing this, Wahlberg turned his attention to a clip of a car accident, which Wallace didn't seem to like at all. "Not the minivan! That's wrong, don't mess with another man's ride." reacted.
"I'm out!"
SEE THIS STORY: Bubba Wallace reveals his retirement plans on Michael Jordan and Denny Hamlin's NASCAR team amid contract extension
Bubba Wallace and Ryan Blaney will hope they don't suffer the same fate as 'Me Time'
'Me Time', contrary to what Kevin Hart and Mark Wahlberg would have had in mind, is heading towards a label of failure and spectacular failure. According to most Hollywood critics, the $50 million film is described as Hart's "worst movie yet".
COMMERCIAL
Article continues below this ad
Now, the fate of this movie is what it is, but Bubba Wallace and Ryan Blaney are hoping for different fortunes at the end of the checkered flag at Daytona.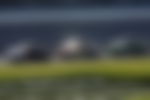 Ideally though, they could both make it to the next stage of the season, but that will be difficult, but not impossible.
COMMERCIAL
Article continues below this ad
Regardless, it won't be long before we know which of the two friends or the two friends together make it to the playoffs.