Following a successful inaugural event at Lincoln Park Speedway earlier this month, the High Limit Sprint Car Series has announced a second event to take place during the 2022 season. In association with Sprint Car driver Sheldon Haudenschild, High Limit Buckeye Brawl presented by DAC Pet Products will take place at Wayne County Speedway on Tuesday, September 27 and will feature a $65,000 A-Main purse.
In July, NASCAR Cup Series Champion Kyle Larson and three-time defending World of Outlaws Sprint Car Series Champion Brad Sweet announced the formation of the High Limit Sprint Car Series. While the midweek series won't officially begin until the 2023 season, the inaugural Kyle Larson High Limit Open took place on August 16 at Lincoln Park Speedway.
2022 Sheldon Haudenschild High Limit Buckeye Brawl Pres of DAC in Wayne Co
With a strong field of Sprint Car drivers and a large turnout, the event was considered an all-round success. The event was won in exciting fashion by rising star Buddy Kofoid.
"Very happy with the success of our first event," said Larson. "It's great that Sheldon, who is one of the best racers we have in our sport, wants to help promote an event at his hometown track. It's an opportunity we couldn't pass up."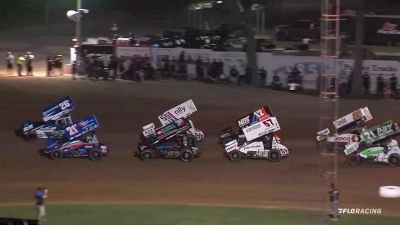 VIDEO: Watch highlights from the inaugural Kyle Larson High Limit Open at Lincoln Park Speedway.
Like the High Limit Open, the Buckeye Brawl at Wayne County Speedway will offer a rich purse that includes $22,022 for the winner of the race. Once again, Larson is expected to compete behind the wheel of No. 57 Paul Silva. In addition to Larson, a strong field of the biggest names in the sport is expected once again.
Haudenschild, who will assume the role of promoter of this event, will not participate.
"I am excited to be involved in bringing great paid racing to our local track," Haudenschild said in an event press release. "Wayne County Speedway has proven itself capable of hosting well-attended and competitive races. The fans, the teams and the drivers are what make it possible."
General admission tickets for Buckeye Brawl are available on the Ticket Hos mobile app powered by PitPay (download link: gettickethoss.com/l0n). General early admission tickets are $40 for adults and $20 for children ages 6-12. Admission is free for children under 5 years old.
The Sheldon Haudenschild Buckeye Brawl, as well as the entire 2023 High Limit Sprint Car Series schedule, will be streamed live on FloRacing. If you are not yet a FloRacing subscriber, Click here to sign up today.
Learn more about the High Limit Sprint Car Series at highlimitracing.com and on the following social media accounts:
Twitter – @highlimitracing
Instagram – @highlimitracing
Facebook – /high limit races
YouTube – @highlimitracing