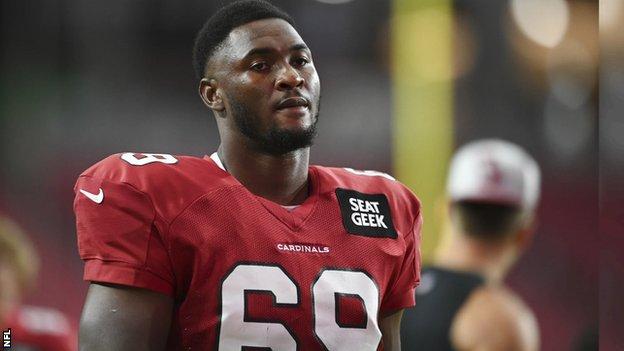 The brutality of life in the NFL hasn't stopped Haggai Ndubuisi from pursuing a career in football.
The 21-year-old Nigerian took up the sport just four years ago and seemed to have capped off his remarkable rise earlier this year when he signed with the Arizona Cardinals in April.
However, it was removed from the list four months later. However, he has vowed to fight his way back to the path that took him from Abuja to Arizona.
"For me, there is no going back," he told BBC Sport Africa.
"It's about not giving up. I will continue to chase my dream. I will continue to train and work harder and correct mistakes and things that I feel like I should do better or would have done better."
"[I will] keep chasing the dream and keep believing and hoping that one day, I too will be among the starters at one of the clubs".
Standing six feet six inches tall, Ndubuisi grew up playing soccer and basketball in Nigeria before finding his passion for American football online.
Yet West Africa's largest and most populous nation has few players or clubs in a sport that dominates in the United States.
"Football is not a Nigerian sport, it's like a hopeless sport. It has no future," he said.
"I was basically watching YouTube and going to practice on our own. When we started, people thought we were joking.
"As time went on, we started organizing camps to attract more people."
The NFL seeks to harness the potential of Africa
In 2021, offensive linesman Ndubuisi joined UpRise Academy in Ghana, led by two-time New York Giants Super Bowl winner Osi Umenyiora and former professional basketball player Ejike Ugboaja.
It is part of the push to expand the scouting operation on the continent for the NFL, which has more than 100 black professional players.
The NFL's ambition to discover more talent on the continent was underscored when it hosted its first continental events in June, with the inaugural NFL African Camp taking place in Ghana.
"We know that Africa has probably the best athletes in the world," said Umenyiora, who was born in London to Nigerian parents.
"For the NFL you have to be big, strong, fast, aggressive and smart.
"We went to Senegal, South Africa, Kenya, Ghana and Nigeria. And then we found the best guys we could and brought them all to Accra, Ghana.
"We want to provide infrastructure and knowledge so these guys know what the NFL game is all about. And they're going to have those opportunities. That's what we're here for."
Speaking at the camp in Accra, NFL International COO Damani Leech added: "We have more than 40 players from seven different countries.
"We could see ourselves being in Nigeria or South Africa, or another country in the next few years."
'Nobody believed they would make it'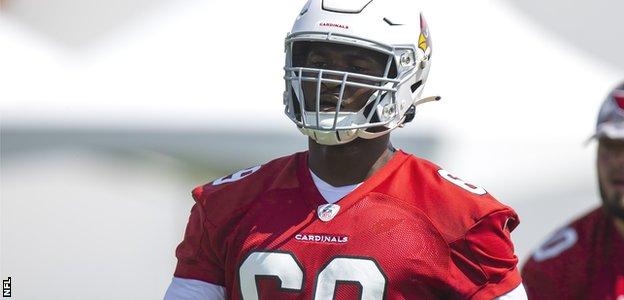 After his stint at UpRise Academy in Ghana, Ndubuisi was on a path that NFL scouts might take a look at.
"It was a week-long camp. Three of us were selected and invited to participate in the combined NFL camp in London," he explained.
"I think out of the 47, six of us made it from the combined NFL camp in London. The three from Nigeria and three other guys."
From there, Ndubuisi was invited to the NFL's International Player Pathway program, a ten-week event in Arizona, United States.
"After my 10 weeks of playing football in the United States during the IPP program, I got a call from the general manager of the Cardinals," he recalled.
"It was like they had to test me and teach me a thing or two. That's how the Cardinals signed me."
The NFL's competition guidelines allow teams to have a larger roster in the offseason, but that must be curtailed by Aug. 15 before the new season, and Ndubuisi's rise was about to stall.
"It's about making the list of 53 men", sad Ndubuisi.
"Everyone was trying their best and trying to show what they're capable of. At the end of the day, they pick who they want to pick."
"It's all about the numbers."
Despite being released, bitterness is far from Ndubuisi's mind.
American football has a low profile in Nigeria, but he found his way to the gate of one of the most lucrative sporting competitions in the world, and he hopes his dreams and those of many others are just beginning.
"The truth be told, no one ever believed that it would reach this height," he concluded.
"My ambition is to get a new team. Getting to the league alone has brought hope."
The new NFL season kicks off on Thursday, with the Los Angeles Rams kicking off their Super Bowl title defense against the Buffalo Bills.