While the long-term outlook for sustainable coffee production remains mostly cloudy, a new Washington state coffee brand called Forecast Coffee Company is helping shine a light on agroforestry.
The new coffee roasting brand is owned and operated by Bellingham-based Tony's Coffee, the 2021 Roaster of the Year in the "macro" category. The new brand is designed to promote and support coffees that have been grown in agroforestry settings, where trees and shrubs surround crops for more sustainable land uses.
"We started Forecast because we believe agroforestry is a critical tool to combat climate change and build stronger food systems," David Yake, director of sales and sustainability for Tony's Coffee, told the Daily Coffee News. "Our goal is to celebrate farms that produce beautiful coffees and are at the forefront of agroforestry and regenerative farming methods."
A description of land use as opposed to the more specific "shade-grown" crop designation, agroforestry practices in coffee have been shown to be effective in protecting biodiversity, leading to carbon sequestration, improving livelihoods farmers' lives and other benefits. However, the practice is not mainstream in the coffee industry, which has historically incentivized deforestation for maximum production volumes.
In addition to purchasing coffees that are derived from agroforestry and regenerative farming practices, Forecast Coffee Company is donating 5% of its profits to the non-profit organization Trees for the Future, which supports agroforestry in sub-Saharan Africa.
"Agroforestry is a powerful piece in the biodiversity puzzle, both for flora and fauna," Yake said. "That's the beauty of thoughtful, mature agroforestry systems: they don't just address the problems, they get to the core problem, creating healthy soil, which in turn creates more pest-resistant plants and high-scoring coffees. "
A dedicated Forecast Coffee website was launched this month. While it does offer roasting in bulk, the business is set to take supermarket aisles by storm with hundreds of location launches this month.
Forecast's ancestor, Tony's Coffee, was founded in 1971 and currently has about 50 employees. The company recently withdrew from its only retail coffee to focus entirely on its roasting operations, which produce more than a million pounds of coffee a year on Loring Peregrine S70, Probat G60 and Diedrich IR24 machines, all located within a facility of approximately 15,000 square feet. in Bellingham.
"We recently made a down payment on a second Loring Peregrine S70," Yake told DCN. "This machine will replace our Probat G60, which has served us well for years. The second Loring will drastically reduce the carbon footprint of our roastery."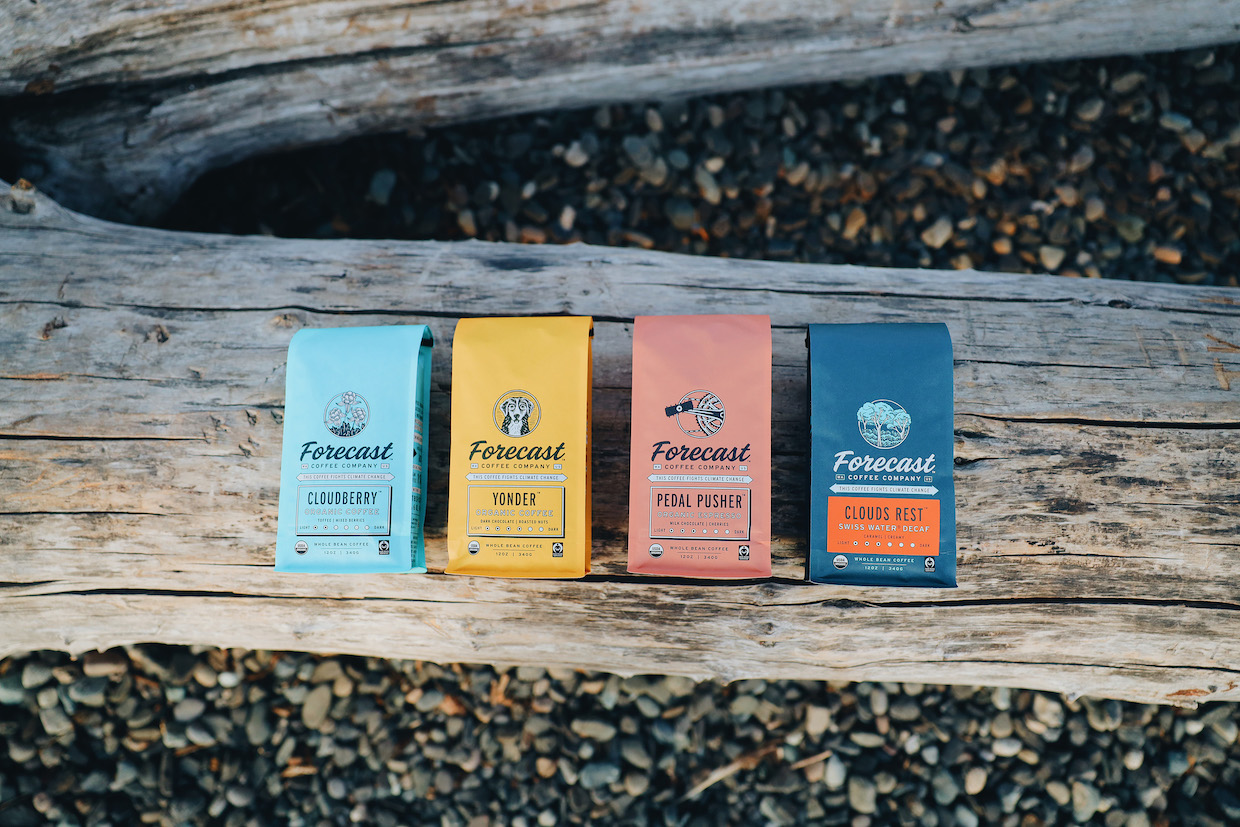 Forecast Coffee blends with names like Cloudberry, Pedal Pusher, and Clouds Rest are roasted by head roaster Justin Freeman exclusively at Loring, while all coffees bearing the Forecast name are exclusive to the brand and not shared with Tony's.
Suppliers of green coffee to Forecast have so far included the Marcala Organic Coffee producer cooperatives (COMSA) in Honduras, many of whose members participate in a reforestation program, and the Asociación Barillense de Agricultores (ASOBAGRI) in Guatemala, many of whose Member farms are Smithsonian Certified Bird Friendly.
The final products are packaged in plant-based Biotre bags in a variety of colors, which is another departure from Tony's simple, artisan-style brown bags.
"Forecast is tackling some big, tough challenges, but we felt it was important for the brand to have an uplifting energy," said Yake. "That's why we chose such vibrant colors and partnered with local illustrator Sarah Finger, who we love, for our packaging. We partnered with local illustrator Brittany Schade, who we also love, for our website illustrations."
The new brand's inaugural coffee wholesale partner will be Roam Coffee + Beer (Instagram), a project opening this fall from Bellingham-based Wander Brewing.
Beyond that, both Forecast and Tony's will continue to look for ways to balance growth with carbon and waste reduction. For example, Tony's operates a "Green Travel" program that subsidizes employee carpools and public transportation trips.
"We're making changes, big and small, to reduce waste in our roastery," said Cheriss Faiola, director of marketing for Tony's Coffee. "Since its inception in 2020, the [Green Trips] The program eliminated 8,670 single-occupancy vehicle miles and helped prevent approximately 4.7 tons of CO2e. Everyone in the company is invited to discuss how we can reduce our impact. It is the only way.
---
Does your coffee business have news to share? Report to the DCN editors here.
More from DCN
Howard Bryman
Howard Bryman is the associate editor of Roast Magazine's Daily Coffee News. It is based in Portland, Oregon.