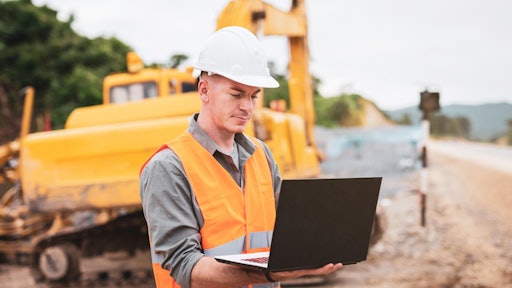 As construction sites continue to incorporate cutting-edge technology to help teams complete projects in a more secure and streamlined way, it also makes sense to further streamline the payment process.
©Author name – stock.adobe.com
As the digitization of the construction industry accelerates and evolves, general contractors have made great strides in workplace innovation, with technologies like the Internet of Things (IoT), reality capture and autonomous vehicles. that offer new advantages. At the same time, many have overlooked the substantial productivity gains they could be achieving by paying equal attention to administrative processes. To save time and money across all facets of their business, organizations need to think holistically about their digital transformation, including an area that is often still mired in disjointed, manual processes.—Payments
How much easier would managing your project be if you could replace the traditional checkout process with one that simplifies and standardizes critical processes? One that increases efficiency and control, for all stakeholders, in billing, payment, and compliance management? One that could ultimately reduce your risk as a general contractor, owner, or subcontractor, while freeing up teams' time to focus on activities that are more beneficial to your business?
A collaborative payment management solution not only helps manage payment and billing processes between project participants, but can also forge better and longer-lasting partnerships in the industry by ensuring that everyone is paid fairly and on time. Such technology can streamline the payment process for construction companies of all sizes by managing payment due dates and related actions, as well as improving accuracy. It also eliminates inefficiencies and reduces a host of risks, including human error, improper payments, and liens that prevent a clean handover of a project to the owner.
Other opportunities for success
In addition to strengthening relationships and eliminating inefficiencies, automated payment solutions can also help businesses eliminate manual steps and calculation errors by automatically generating accurate invoices tied to value schedules, for example. In addition, they can help companies centralize compliance tracking and lien exemption management, as well as other important documents and reports, simplifying these crucial tasks and avoiding greater safeguards against risk for all stakeholders.
Automated payment solutions also allow team members to collaborate within a shared environment. Since all parties use the same collaboration platform, owners, general contractors, and subcontractors need visibility into payment and compliance status. As a result, they can collaboratively anticipate and address potential problems before they become pressing problems.
The automation and simplification that comes from using a modern payment processing solution helps increase productivity and reduce errors. In addition, companies can implement a standardized cloud-based system for financial processes through your enterprise resource planning (ERP) and accounting system to give a complete vision of the business of its partners through support reports, dashboards, and analytics. East enables companies to capture and analyze payment data across their business, providing more strategic insight current state of affairs and help answer questions delivered when and how they want them.
In total, these modern approaches to payment solutions can help mitigate financial, legal, or reputational risk while improving cash flow. Ultimately, this improved cash flow also allows organizations to more predictably meet payroll, hire and invest in their businesses.
As construction sites continue to incorporate cutting-edge technology to help teams complete projects in a more secure and streamlined way, it also makes sense to further streamline the payment process. You can bring peace of mind to all stakeholders by helping to put an end to those pesky paper-based office tasks that are already being eliminated with cutting-edge technology in the workplace.