Peixoto Coffee Roasters, a vertically integrated farm-to-cup coffee company, has expanded with a second vertically-oriented coffee shop in Gilbert, Arizona.
With 20-foot ceilings, the new café draws guests from a 1,600-square-foot service level to a 500-square-foot mezzanine via a connecting metal and wood staircase that can accommodate up to 100 people.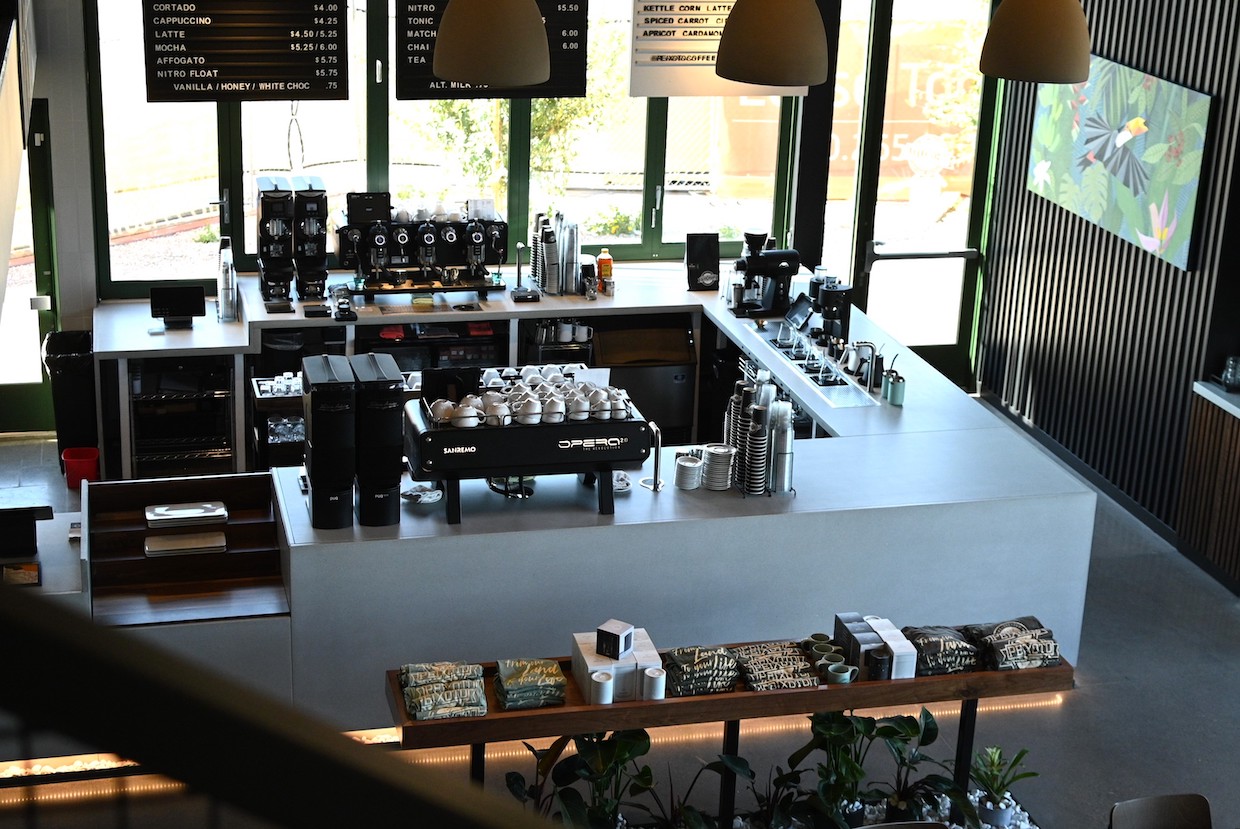 The raw, natural materials around the cafe honor both the Peixoto family's coffee-growing legacy in Brazil and the agricultural legacy of the land surrounding where the cafe now stands, in a bustling new residential and commercial development called Epicenter. at Agritopia.
"We saw this as an opportunity for us to bring Peixoto to a second location that felt connected and true to our coffee roots," Peixoto Coffee co-owner Julia Peixoto Peters told Daily Coffee News.
The natural stone and rock walls further reinforce the theme of the land, while the coffees that make it to the coffee bar and shop shelves come from a farm much further afield: Fazenda Sao Jose da Boa Vista, operated by Julia Peixoto Peters's father, Jose Augusto Peixoto.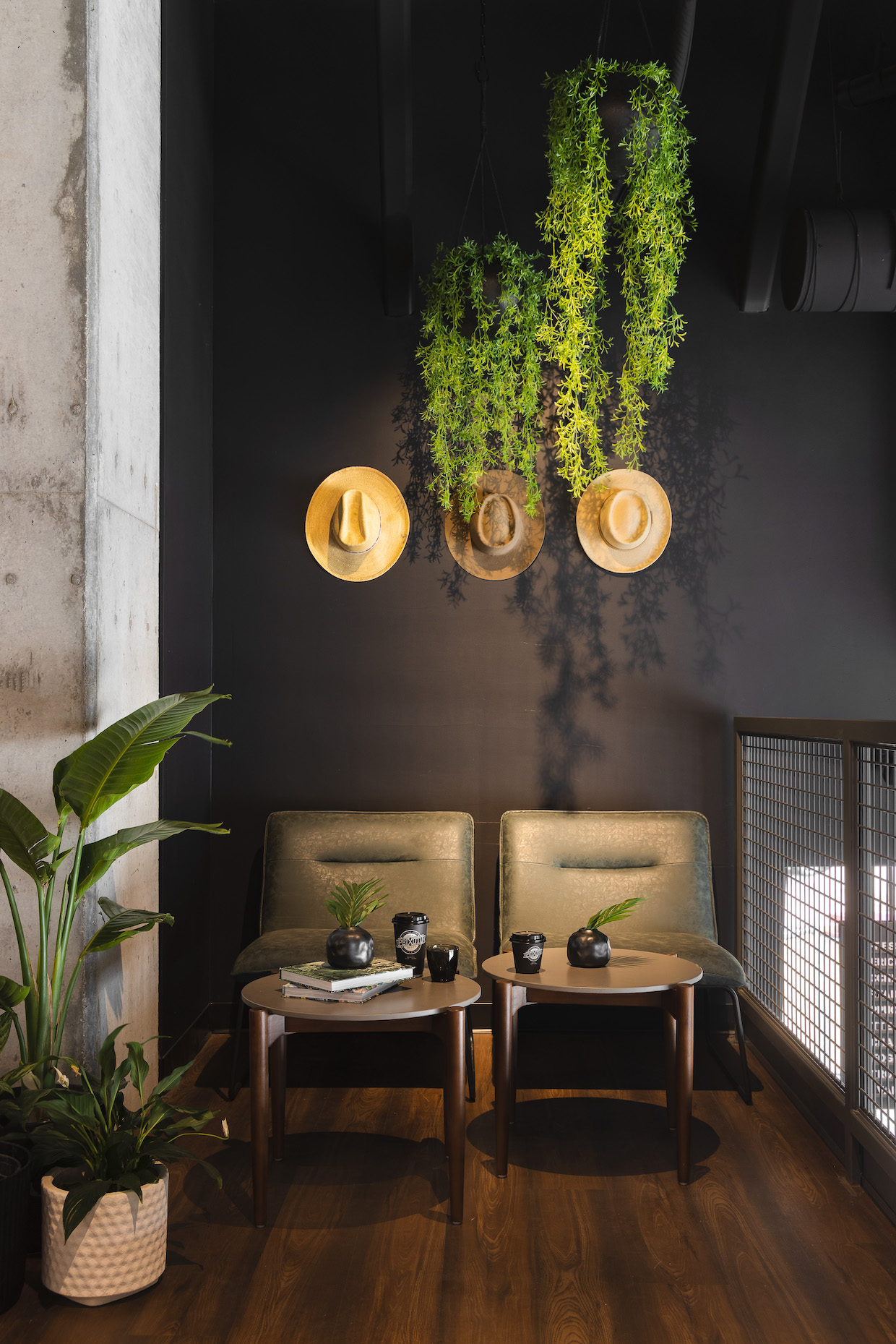 "We have some art pieces that represent where we come from and our vision," said Peters, noting that the three hats on display represent three generations of farmers, while a six-foot acrylic painting by Brazilian artist Chris Matos is a tribute to the coffee plantations and their wildlife. "We added a family photo gallery wall to the mezzanine as a personal touch that displays photos [husband and co-owner Jeff Peters] and I captured over the years when we return to our farm to harvest coffee."
A 13-foot concrete mural depicting a world map echoes a similar display at the company's original US location in Chandler, which opened in 2015.
In the time since that opening, the company has moved its 15-kilo capacity Primo PRI-35 roaster out of the cafe to a new 9,500-square-foot production facility and headquarters in Chandler. A 30-kilo Primo toaster and other equipment have been added to the machine.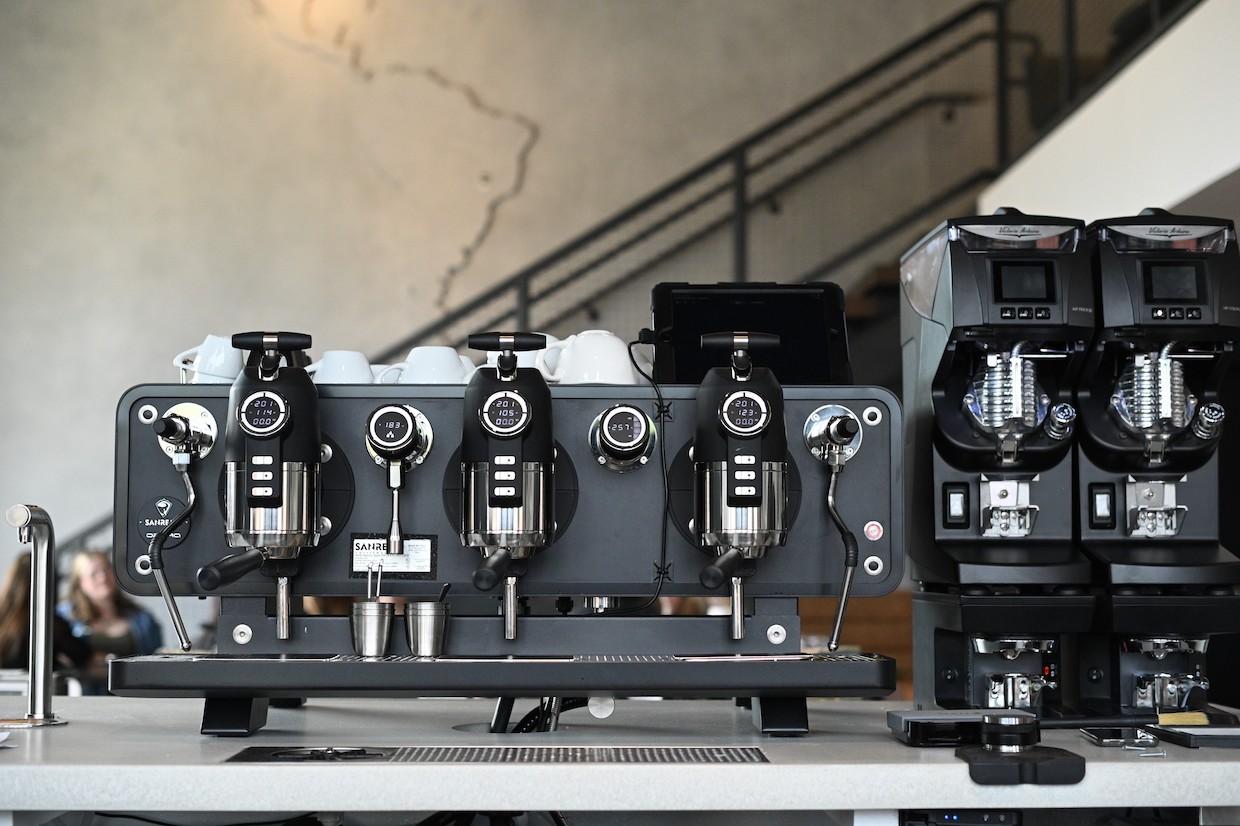 "In 2018, we further condensed our supply chain, achieving full vertical integration across our business from farm to end product, becoming an importer of record and stocking all of our annual green coffee purchases," said Peters. "We consolidate all of our storage, roasting, cold preparation, packaging, and distribution for retailers and wholesalers."
A fleet of four Mythos grinders and Puqpress automatic handlers are paired with dual 3-group Sanremo Opera 2.0 espresso machines that are located on opposite sides of the mirrored bar. The configuration allows for high-volume coverage while accommodating orders from two different points: one from the inside and one from the outside.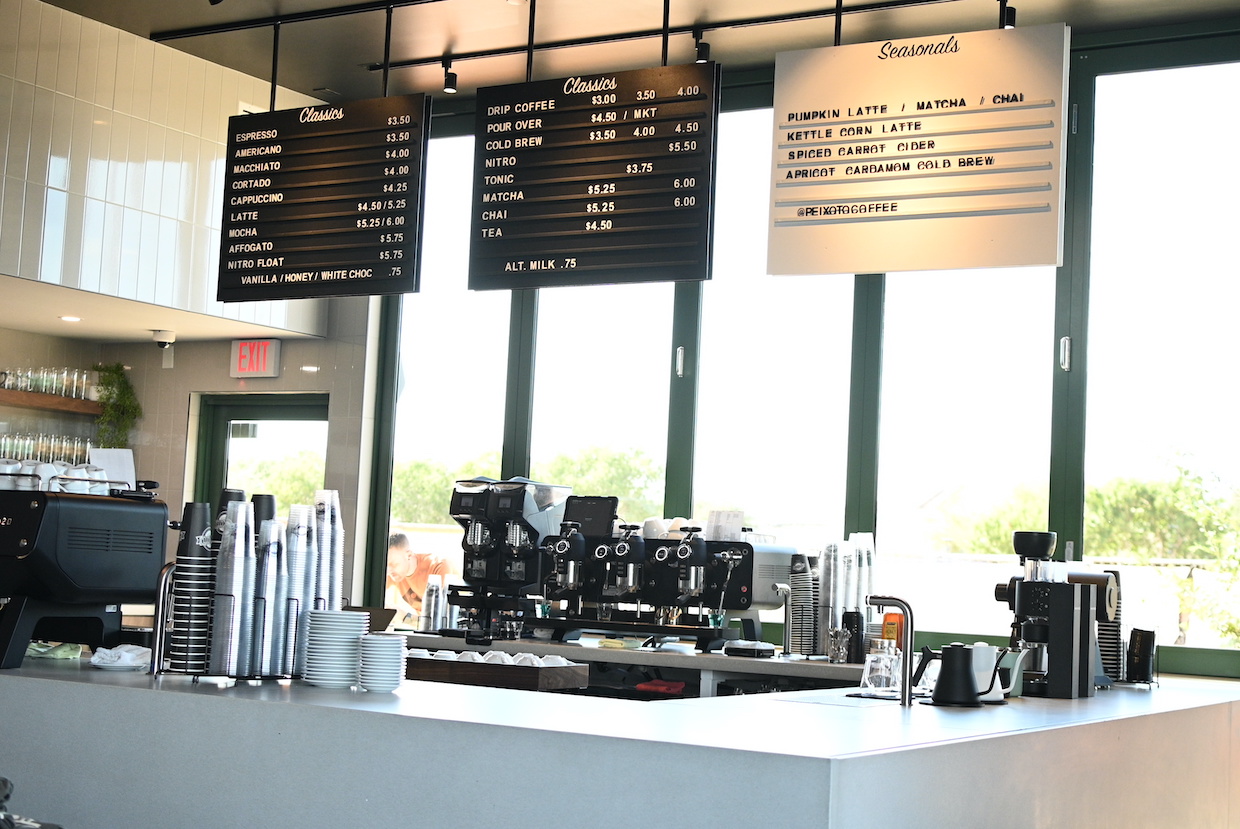 Several different extraction pressure profiles are programmed into the Sanremo groups for the different styles of espresso drinks on offer.
"We have an espresso profile for espresso, another for espresso and milk, and a third for flavored beverages," Peters said. "We achieved different profiles using the same coffees from our family farm, currently using our honey processed coffee as a single origin espresso."
At the custom concrete slab bar, a Mahlkönig EK43S grinds for hand pours as well as single cups brewed by two Marco SP9 brewers. Cold draft Peixoto beers, seasonal drinks and homemade tonics are dispensed through a faucet wall with six concrete faucet handles.
"We have new cultivars that we've been planting and experimenting with, and every year is an adventure for us in harvesting coffee and learning what we get from those experiments in the cup," said Peters, whose family farm of Gesha seedlings in 2016 achieved its first large-scale harvest last year.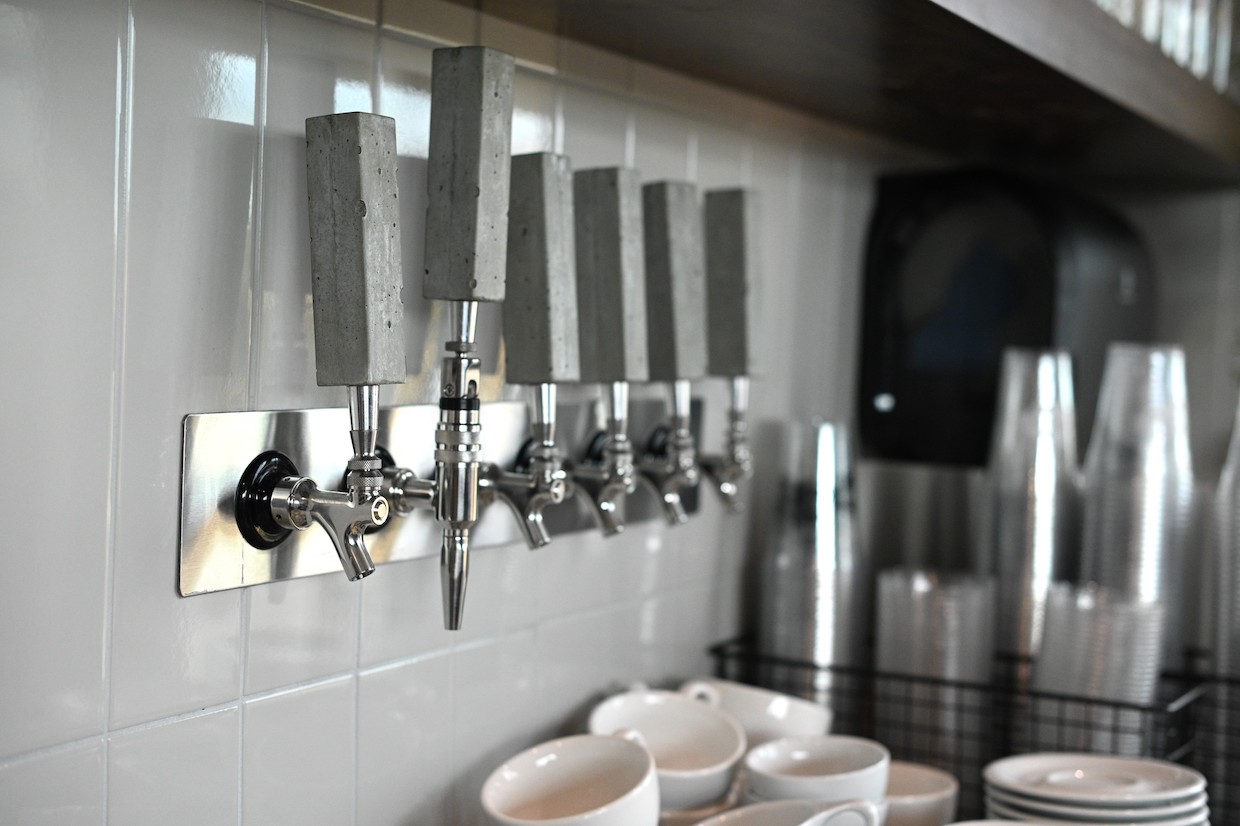 "Many challenged our ability to grow Geshas in Brazil, but knowing our terroir and our ability to grow high-quality cultivars with high density and complexity, we decided to move forward," said Peters. "Today we have 4,000 Gesha trees producing microlots a year, with an exciting harvest arriving in our stores in December."
---
Peixoto Coffee Roasters at the Epicenter is located at 3150 E Ray Rd. in Gilbert, Arizona. Tell the DCN editors about your new coffee shop or roastery here.
More from DCN
Howard Bryman
Howard Bryman is the associate editor of Roast Magazine's Daily Coffee News. It is based in Portland, Oregon.