Welcome to DCN's weekly coffee news! Stay up to date with the latest stories by subscribing to DCN's bi-weekly newsletter, which features the latest coffee industry news and coffee jobs.
Do you have news to share? Contact us here.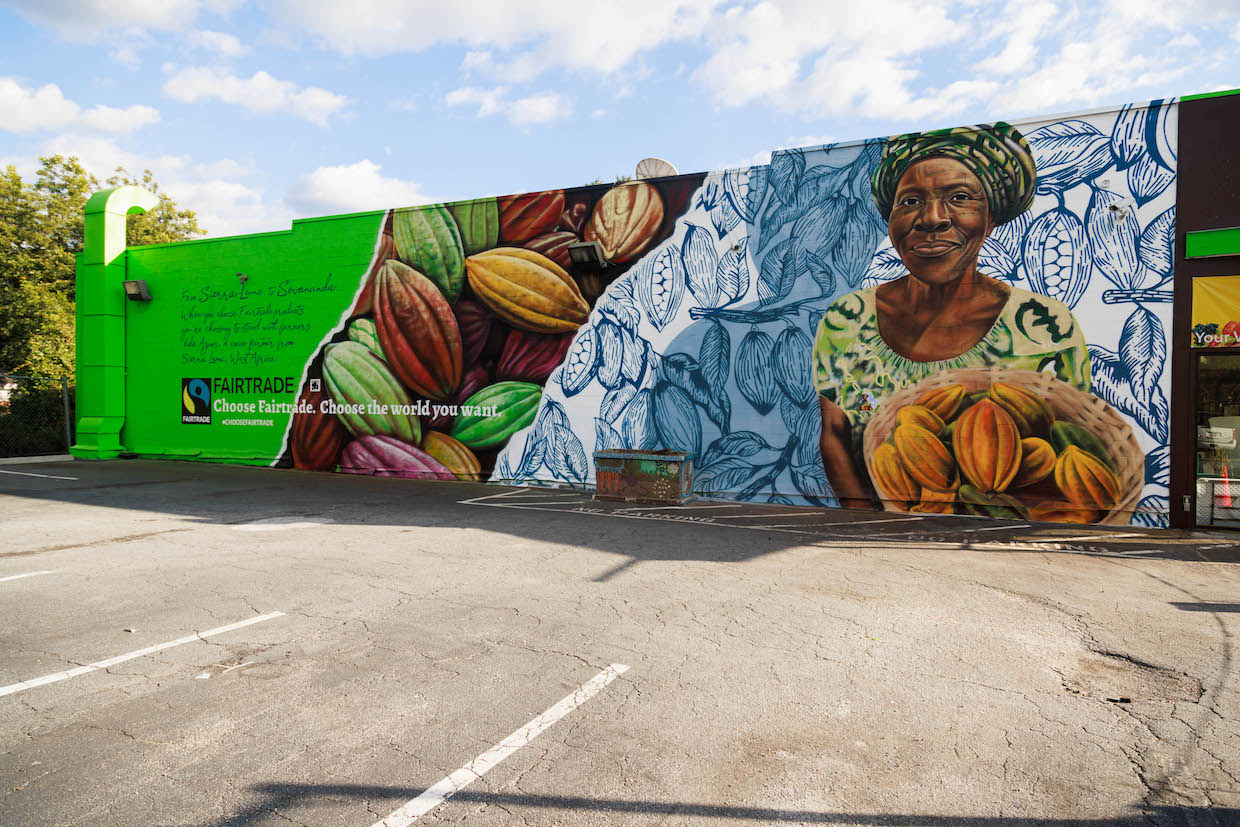 Fairtrade America launches third "Choose Fairtrade" campaign
Fairtrade America, the US branch of Fairtrade International, has launched the third "Choose Fairtrade. Choose the world you want", campaign. This year, the campaign features murals by local artists representing Fairtrade farmers outside participating progressive grocery stores in Atlanta, Milwaukee and Portland, Oregon.
The Specialty Coffee Association Will Form a Task Force for Tasters and Classifiers
As the Specialty Coffee Association prepares to implement its new cupping and grading protocol, due in 2023, the nonprofit membership association says it plans to appoint a task force to support professional coffee cuppers and graders. See the full ad.
Kyra Kennedy, Co-Founder and CEO of Baratza, Retires
Kyra Kennedy, co-founder and CEO of grinder manufacturer Baratza, retires. Kennedy, a longtime champion of the specialty coffee industry, particularly in the United States, founded Baratza 23 years ago with his business partner Kyle Anderson. The company was acquired by Breville in 2020. "It has been an incredible and rewarding journey," Kennedy said in an announcement shared with DCN. "I am grateful to everyone who has worked with me to make Baratza the successful, innovative and people-focused global company that it is. This day. It has always been difficult for me to imagine leaving Baratza, but this is the right moment to step aside".
The National Coffee Association Appoints Kathryn Lawson Chair of the Nestlé Scientific Council
The National Coffee Association of the United States appointed Kathryn Lawson as president of its Scientific Leadership Council (SLC), which advises the association on a variety of scientific and regulatory issues related to coffee and caffeine. Lawson is currently the senior manager of scientific and regulatory affairs for Nestlé USA.
ICO Monthly Market Report Shows Average Coffee Prices Down 0.2% August-September
The International Coffee Organization has issued its monthly report on the world coffee market, which shows an average price decline of 0.2% among all types of coffee from the month of August to September. The median value for September was $1,984 per pound. Find the full report here.
UK Coffee Week from 10 to 16 October
This week (October 10-16) marks the return of UK Coffee Week, a week-long celebration of coffee supported by the Allegra Foundation, a non-profit organization associated with events agency and UK-based marketing, the Allegra Group. Dozens of UK roasters and retailers are taking part in promotional efforts, while events and sales throughout the week will benefit Project Waterfall, a non-profit organisation. See a map of participating companies.
Seven Seas Roasting representatives fly to Ukraine with a $10,000 donation
Seven Seas Roasting CEO Eric Dobbs and Chef Marco Maestoso recently represented the San Diego coffee company as they personally delivered a donation of more than $10,000 plus medical supplies to One Love Coffee in Kyiv, Ukraine. Funds were raised through a special combination fundraiser plus t-shirt sale in partnership with San Diego-based Squeegee Prints.
Dunkin' promises "100% responsibly sourced" coffee by 2025
US-based Dunkin' is one of two major coffee roasters (see below) to declare a commitment to basic sustainability standards for all of its coffee. The company has enlisted non-profit sustainability verification firm Enveritas for its Sustainable Coffee Pledge, which promises "100% responsibly sourced coffee" by 2025.
Nestlé will allocate $1.01 billion to the sustainability of Nescafé coffee
Global food giant Nestlé said it is committing more than 1 billion Swiss francs ($1.01 billion) to a sustainability initiative in its coffee supply chain called Plan Nescafé 2030. The initiative follows a Plan Nescafé that was launched in 2010. It calls for "100% Sustainable Origin Coffee by 2025", while incentivizing regenerative agriculture practices among coffee farmers in the Nescafé supply chain.
Green coffee seller Vournas Coffee Trading celebrates 20 years
Vournas Coffee Trading, based in Thousand Oaks, California, is celebrating its 20th anniversary in business. Run by married duo Andrew and Kat Vournas, the company offers a variety of specialty coffees for small and medium-sized roasters.
Black Rifle Coffee got into a legal rampage with former investors
The Mercury News brought to light a months-long legal battle currently raging between the vehemently pro-gun Black Rifle Coffee Company and one of its former investors. The latter filed a lawsuit in May alleging stock manipulation and fraud, while Black Rifle subsequently alleged defamation. Read more.
In case you missed it
Here are some of the top DCN stories from the past week…
A look back at Roast Summit 2022 @ Coffee Fest PNW
Bringing together coffee professionals from around the world to learn about approaches to roasting, processing and sourcing green coffee, this was the first in-person iteration of the Roast Summit since 2019… Read more
When coffee farmers face crises, farmworkers suffer the most
Labor is the largest component of production costs for most coffee farmers. In Latin America, for example, labor represents the majority of production costs… Read more
Anthony Douglas from Australia wins the World Barista Championship, Shih Yuan Hsu (Sherry) from Taiwan wins the Brewers Cup
Each of the United States representatives in the competitions, US Barista Champion Morgan Eckroth of Morgan Drinks Coffee and Elika Liftee of Onyx Coffee Lab, came in second place… Read more
Melodrip launches Colum, a conical zero-bypass coffee maker
Featuring a conical stainless steel filter holder supporting a column of borosilicate glass, the brewer is designed to eliminate the effect known as bypass… Read more
Fellow Introduces Next Generation Stagg EKG Gooseneck Kettles
Fellow Stagg EKG Pro and EKG Pro Studio Edition introduce new Wi-Fi features to the EKG line, while featuring a revamped interface and other advanced controls… Read more
With three new bars, Discourse Coffee is the talk of the town in Milwaukee
Discourse Coffee blacksmiths in Milwaukee continue to expand the conversation around coffee, with a series of openings in the last eight months that include a new flagship coffee in downtown… Read more
Brazilian specialist Peixoto Coffee moves up with Second Arizona Cafe
Peixoto Coffee Roasters, a vertically integrated farm-to-cup coffee company, has expanded with a second vertically-oriented coffee shop in Gilbert, Arizona… Read more
More from DCN